Featured Vacation Rental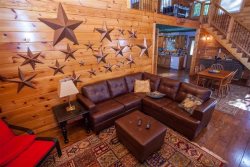 Cliffhanger - Located on 17 acres! Amazing mountain view with modern decor!
Gilmer County, home of Ellijay, Georgia, is Georgia's Apple Capital of the State. With home to a variety of different apples houses, anyone visiting the area should plan on a visit to at least one of them to really get a feel for the area! For two weekends in the moth of October, Ellijay features the Georgia Apple Festival, right at the fair grounds in town! There are over 300 vendors that visit the North Georgia Mountains to be a part of this great event! This festival features over 300 vendors with homemade crafts, excellent food, and on-site demonstrations!
---
Apple Alley

Picturesque rolling hills and pastureland make highway 52E out of Ellijay a beautiful drive any time of the year. In spring you will see the blooming of the apple blossoms, the year's first sign of a new crop. In the fall, you will find the hillside ablaze in color. The majority of the county's apple houses are along this stretch, allowing you to visit several houses, each with their own signature treat.
Location:
Ellijay, Georgia
Url:
View Website

Apple Festival

One of the most exciting times is in October during the Georgia Apple Festival. There is a parade, antique car show, and all types of products and skills on display. And food, let's not forget the diverse range of food and treats that are sure to make your mouth water. With Ellijay being the apple capital of Georgia you will find a number of roadside stands and apple houses selling nearly 25 varieties of apples and lots of cider.
Location:
Ellijay, Georgia
Url:
View Website
Phone:
706-636-4500

Red Apple Barn

Red Apple Barn is an apple house, U-Pick apple orchard, and shop located in Ellijay, Georgia! Rent their barn for wedding and events!
Location:
Ellijay, Georgia
Url:
View Website
Phone:
706-635-7674

Bj Reece Apple House & Orchard

B.J. Reece Orchards are family owned and operated orchards in Ellijay, Georgia. Tucked in the North Georgia Mountains, they are the home to U-pick orchards, a country bakery and much more. Over the years they have become a popular weekend getaway for visitors year round.
Location:
Ellijay, Georgia
Url:
View Website
Phone:
706-276-3048

Mercier Orchards

Mercier Orchards is a 4th generation family owned orchard in the Blue Ridge mountains. The combination of our U-PICK events, Bakery & Deli, Market Store, and now our Farm Winery makes us a great choice for a day trip by yourself or with the family!
Location:
Blue Ridge, Georgia
Url:
View Website
Phone:
1(800)361-7731

Mack Aaron`s Apple House

The Aaron family heartily welcomes you to visit and browse their apple house! They take pride in offering the third generation of personalized service and a friendly, helpful atmosphere. With a variety of fruits, pies, and (of course!) apples, you never know what you will find, no matter when you visit!
Location:
Ellijay, Georgia
Url:
View Website
Phone:
706.273.3600

Aaron`s Apple House

Family owned and operated business for over 80 years! They have a wide variety of apples, canned goods, fried pies, baked goods, and other tasty agricultural products.
Location:
8350 Hwy 52E Ellijay, GA 30536
Url:
View Website
Phone:
706.273.8456

R&A Orchards

Located just outside Ellijay, down 52 East, R & A Orchards is the first apple house you will find on the stretch of road. With a variety of jams, pies, a ciders, and much more, R & A is a must see when visiting the North Georgia area!
Location:
5505 Hwy. 52 East Ellijay, Georgia 30536
Url:
View Website
Phone:
706-273-3821

Hillcrest Orchards

Hillcrest Orchards, a family owned apple orchard since 1946 hosts the "Apple Pickin' Jubilee" festival on Sept. & Oct. weekends. On the farm fun includes cow milking, pig races, wagon rides, a petting farm, giant slides, jumping pillow, mini golf, Apple Adventure Kid's Museum, and Cow Train rides. Visit the food court for concessions like funnel cakes, fried Oreos, corn on the cob and boiled peanuts. Sit in the air conditioned ice cream parlor for regular food such as burgers, hotdogs, BBQ and fries. There's live entertainment on the stage along with games for the kids. The farm market is open 7 days a week and is filled with fresh apples, cider, treats from the bakery like fried apple pies, fritters and cider doughnuts. There's baskets, kitchen gadgets, local honey & sorghum and hundreds of jams, jellies, salsas, chow chows and more . Bring your camera for a fun day on the farm.
Location:
9696 Hwy. 52 E. Ellijay, Georgia 30536
Url:
View Website
Phone:
706-273-3838